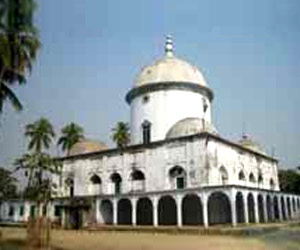 Celebrated In:
February-March
Celebrated At:
Mainaguri, Jalpaiguri district (West Bengal)
Duration:
One month
Jalpesh Mela is an interesting fair in the land of festivals and fairs, West Bengal. It is celebrated in the month of February-March, on the occasion of Shivratri, in Mainaguri town of Jalpaiguri district. It is almost a month-long fair, organized with great pomp and show. Not only the local population, but people from far-flung areas of India also come to participate in this fair. The fair gives an opportunity to people of different cultures to come and blend together, irrespective of their caste, creed and culture.
The ancient temple of Lord Shiva, called Jalpesh Temple, is the main attraction of this fair. The temple is about three kilometers from the township of Mainaguri. The presiding deity of this temple is 'Jalpeshwara' i.e. a form of Lord Shiva. Inside the temple premises, there is a Shivling (the idol of shiva in phallic form) called 'Anadi'. During the fair of Jalpesh Mela, special pooja is performed here. People collect sacred water from the river Teesta and walk bare foot for about 15 km to this temple and offer the water to the Shivling.
Jalpesh Mela is celebrated with great Úlan, by the people of Jalpaiguri district. Spiritual aura and joyous cracklings fill up the air, during Mahashivaratri. Though the entire month of the Mela records extreme crowd, the assemblage of devotees during Mahashivaratri tells the tale of its extreme popularity. Local people believe this celebration to be auspicious and carrier of prosperity. The tradition of offering water to the Shivling in the temple from River Teesta is an age old ritual that is followed even today, with immense devotion and faith.