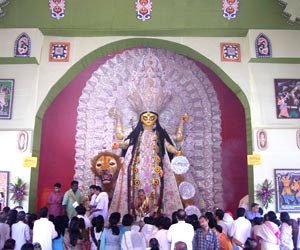 Celebrated In:
Bengali month of Kartik (November)
Celebrated At:
Throughout West Bengal
Duration:
One day
The culture of West Bengal is adorned by numerous fairs and festivals. Goddess Durga is one of the most religiously worshipped deities here and many of the festivals celebrated in the state are meant to pay regards to Her only. Jagaddhatri or Jagadhatri puja is one of the festivals observed by the devotees of 'Durga' - the Goddess of Power, who is also called Jagaddhatri i.e. 'the Protector of the World'. This form of Durga is worshipped more commonly in West Bengal than the other parts of India.
Though Goddess Jagadhatri is worshipped all over West Bengal, the celebrations in Chandannagar, Hoogly and Krishnanagar are very special in terms of their grandeur and popularity. Jagaddhatri Puja is a major Hindu event in Kolkata, after Durga Puja and Kali Puja. This festival is also celebrated in Ramakrishna Mission ashrams all over the world. It was initiated there by Devi Sarada - the wife of Sri Ramakrishna, who according to popular local belief, was an avtar of Devi Jagaddhatri
It is not known as to who started the actual ceremony of Jagadhatri Puja. However, Maharaja Krishna Chandra of Nadia and Indranarayan Roy Choudhury of Chandan Nagar are two popular names associated with the pooja. In Howrah, Jagaddhatri Pooja is being observed since 1713. It is performed in Moktar Bari, Shibpur village, under the Udaynarayanpur PS. It is said that before the start of Jagaddhatri Puja, a grand Durga Pooja used to take place here. However, after a holy dream to a resident of this place, from the Goddess, the custom celebrating Jagaddhatri Pooja came into being.
Devi Jagaddhatri is also known as Karindrasuranisudini, Maheswari, Shaktacharpriya and Adharabhuta. In ancient Hindu Texts, Tantras and Puranas, this form of Durga is depicted as a symbol of Shakti (Power). She is depicted with three eyes and four-arms, holding a Chakra, conch, bow and arrow. She is dressed in a bright red sari, adorned with magnificent jewels and nagajangopaveeta, a thread symbolic of Yoga and Brahmanism. Riding on a lion over the dead body of Karindrasura, the Elephant Demon, she also symbolizes the victory of 'Good upon Evil'