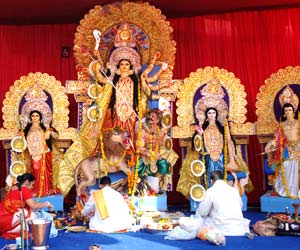 Celebrated In:
April-May and September-October (the main one)
Celebrated At:
Throughout West Bengal
Duration:
Nine days
Durga Pooja is the most important festival in West Bengal, celebrated with immense devotion and great pomp and show. This festival is also known by various names here, some call it 'Akalbodhan' - the untimely awakening of Durga, while others refer to it as 'Durgotsab' - the festival of Goddess Durga and even 'Maayer Pujo' - the worship of the Mother Durga. It is celebrated twice a year - once in the month of April-May, referred to as 'Chaitra' in Hindu calendar and then in September-October referred as 'Ashwin' in the Hindu calendar. On both the occasions, nine different forms of Goddess Durga are worshipped with immense devotion.
It is the Ashwin celebration of Durga Pooja that is more popular in Bengal. It begins on the first day of Shukla Paksha (bright half) of Ashwin month and ends on the tenth day. During the puja, nine different forms of Goddess Durga, namely Shail-Putri, Brahmcharini, Chandraghanta, Kushmanda, Skand-Mata, Katyayani, Kalratri, Maha-Gauri and Siddhidatri, are worshipped with enormous devotion. The tenth day of Durgotsab marks the victory of ten-headed and multi-armed Mother-Goddess "Durga" on the buffalo-demon 'Mahishasura'. It basically connotes the victory of Good over Evil. It is from the sixth day that Durga Pooja gains momentum and sets a spirit of euphoria in the entire state.
The rituals (Pooja) begin in the morning, with "Pushpanjali" (offering flowers to goddess) and Aarti (worship of goddess with holy fire in earthen lamps). The Aarti is performed three times a day and a specific kind of Prasad (holy food) is offered to Goddess everyday. Many devotees also observe a fast for nine days during this holy Navratri festival. The celebrations end with "Visarjan", the grand procession of the idol to the river and its submersion therein. The beats of drums called Dhak, and Dhunuchi nach, a local dance form with earthen lamps and the sweet fragrance of the Shiuli or Shefalika flowers, are likened with the Durga Puja in West Bengal.