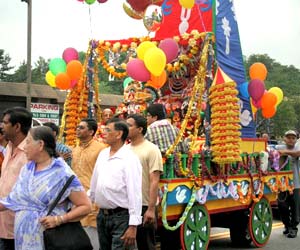 Celebrated In:
June-July
Celebrated At:
Mahesh, Hooghly district (West Bengal)
Duration:
One month
Rath Yatra, which involves taking out of the procession of Lord Jagganath's Chariot, is one of the oldest traditions in Hindu Society. It is celebrated with great effervescence and immense devotion in Orissa and Bengal. Being celebrated since 1397, this Rath Yatra of West Bengal is the second oldest chariot festival in India, after the Rath Yatra of Puri. This grand fiesta of the state is attended by lacs of people from all the parts of the countries. This celebration mainly takes place in the months of June or July.
Rathyatra is about a week-long festival in West Bengal. A large number of people gather at the time of yatra, to pull long ropes called 'Roshi', tied to the holy chariots of Lord Jagannath and his siblings Balarama and Subhadra, on the journey from the temple to Serampur Gundicha Bari and back. Pulling this holy rope is considered very auspicious in Hindu culture and thus, devotees come here with strong beliefs and immense devotion to participate in this grand and sanctified occasion.
The Ratha or the chariot is 45 feet high and has 10 iron wheels. It is designed in a traditional Bengali Nabaratna style, e.g. has nine churas. The chariot is decorated wonderfully during the festival, to add beauty to the ceremony. Silk canopies of different colors are tied to the respective chariots of Lord Jaganath, Subhadra and Balaram. They are adorned with colorful flowers and other colorful items. The age old tradition of Rath Yatra is still observed in West Bengal with same passion and devotion as the yesteryears.