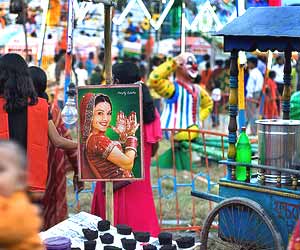 Celebrated In:
December
Celebrated At:
Cooch Behar (West Bengal)
Duration:
One month
Colorful festivals and fairs adorn the culture of West Bengal. Hundreds of festivities are held here every year, either to please the myriad deities worshipped by the Bengali people or to celebrate the glory and beauty of something important occurred in the past. Then, there are festivals organized to promote arts, tourism or even celebrate a good harvest. Amongst the numerous fairs and festivals celebrated in West Bengal, Rash Mela holds a special place. The festival celebrates the piousness of the beautiful love story of Lord Krishna and his consort Radha
Held annually in the Cooch Behar district of West Bengal, Rash Mela is considered to be one of the most popular celebrations in the city. The festival takes place every year, in December, to honor Lord Krishna and his beloved Radha. Though it is celebrated at many places in West Bengal, including Kolkata, this festival is mainly likened with the celebrations in Cooch Behar, because of the popularity and grandeur of this festival there. Rash Mela is a colorful festival with lots of local tales, fun and frolic. Many eminent artists from India perform at the fair, adding to its glory.
The fair organized as a part of Rash Mela gives the tourists a great opportunity to buy some local handicrafts. Apart from the colorful fair, a yatra (procession) taken out at the time of Rash Mela, catches the attention of people. Thousands of people from various parts of the country come to Cooch-Behar, to attend this fair. Its tradition and importance lies in the glorious past of the district, when Rajas and Maharajas used to rule over it. The celebration of Rash Yatra was once the main festival of the Maharaja of Cooch Behar and it still retains the old grandeur and charm, to quite an extent.