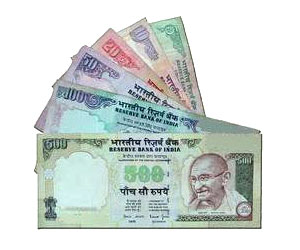 Kolkata, being a part of India, accepts rupee as its domestic currency. Like rest of the country, the money available here is defined in terms of rupee and paisa. The currency is available in forms of coins or notes. It is presently in the values of rupees 1, 2, 5, 10, 50, 100, 500 and 1000. You may get either coins or notes till Rs. 5. Beyond Rs 5, you get only notes on the behalf of the currency. Plastic cash i.e. debit cards and credit cards are widely accepted throughout the city, especially in all the premium stores.
As Kolkata (earlier Calcutta) is a major hub for foreigners in India, the currency exchange facilities are available at many places. Apart from Netaji Subhash Chandra Bose International Airport, you will also find money exchangers with the premium hotels and registered banks of the city. Other than these, private currency exchangers are also available in and around the city. In the following lines, we have provided a list of all the renowned money exchange outlets in the city of Kolkata.
Money Exchangers in Calcutta
Weizmann Forex Ltd.?
235/2A, Acharya Jagadish Chandra Bose Road, Minto Park, Kolkata
Skyway Forex & Travel Pvt. Ltd.?
10, Sudder Street, Kolkata
Wall Street Finance Ltd
63, Acharya Jagadish Chandra Bose Road, Rippon Street, Kolkata
RN Dutta & Son (P) Ltd
56A, Hemanta Basu Sarani, Dalhousie, Kolkata
Maya Shop?
Block-2, Sealdah Flyover, Sisir Market, Sealdah, Kolkata
RN Dutt & Sons (P) Ltd.
Stephen House, 56 A, Hemanta Basu Sarani,, Kolkata
RN Dutt & Sons (P) Ltd.
Ground Floor, 182A, Sarat Bose Road, Kolkata
Foreign Money Exchange?
47/A, Gariahat Road, Gariahat, Kolkata?
Bikram Shop?
5/100, Sisir Market, Sealdah, Kolkata
Mahamaya Travels?
Block-2A, Sealdah Flyover, Sisir Market, Sealdah, Kolkata