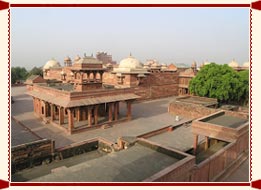 Uttar Pradesh has a very vibrant history. It has been ruled by numerous dynasties in the course of History. Almost all of them have contributed something or other to the architecture tradition of this state. That is why Uttar Pradesh has no dearth when it comes to forts and palaces.
The most magnificent and architecturally splendid fort of Uttar Pradesh is The Red Fort of Agra that is also known as Agra Fort. Mughal Emperor Babur built this fort and several additions were made to it in the course of History. The fort has many magnificent buildings in its premises such as Divan-e-Aam, Divan-e-Khas, Jahangir Mahal and 64-Khambha. This fort is considered to be one of the biggest of its kind in India.
The Sikri Fort in the nearby Fatehpur Sikri is worth visiting too. Mogul Emperor Akbar constructed this fort when he shifted his capital to Fatehpur Sikri from Agra. The palace complex contains many buildings of historical importance such as Panch Mahal, Tomb of Hazrat Salim Chisti, Buland Darwaza and Jama Masjid among others.
The fort of Royal Scion of Varanasi is also worth visiting. The fort is known as Ramgarh Fort and is on the leeward side of the Ganges ghats in Varanasi. The fort is very small in comparison to the one in Agra and Fatehpur Sikri but is very aesthetically designed. The fort of Rani of Jhansi in the city of Jhansi and the one belonging to Tantya Tope and Nana Saheb in the adjoining town of Bithoor are worth visiting too. They forts have special place in the history of the Sepoy Mutiny of 1857.
There are other small palaces such as the one used by the Nawabs of Oudh that stands in Lucknow and the one belonging to Begum Hazrat Mahal