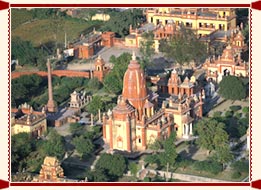 Mathura is the land of Krishna. In fact, frankly, Krishna and Mathura are inseparable. The place has been the birthplace of Lord Krishna. It is also the place where he spent his childhood, adolescent hood and last years of his life. Therefore it is but natural that city seems to remind Krishna wherever you go.
The most important tourist spot in Mathura is the Krishna Janambhoomi temple. The temple lies in the very heart of the city and is supposed to have been built on the site where Lord Krishna was born. The temple houses the stone slab that the exact site of his birth. Dwarkadhish temple that falls in the way to Yamuna is another important tourist spot. The temple remains brimming with tourists round the year.
Kusum Sarovar, near the historical Radha Kunj, is a famous tank in the Braj region. It is the same tank where milkmaids used to flirt around with Krishna by giving him flowers. Another important tourist spot in Mathura is the famous Government Museum. The museum houses some of the best statues of Kushana period. Most of them belong to the Mathura School of Architecture that was parallel to the then famous Gandhara School. Apart from that there are some very interesting excursions also such as Nandgaon, Barsana and Vrindavan. They all are in a way or other attached to the life and times of Lord Krishna.
It is next to impossible not talking about milk while discussing Mathura. Mathura offers the best 'Ghee' in the country. There are various sweetmeats too that one can taste. 'Peda' and 'Khurchan' are two of them. In the end, we are confident that you will cherish the moments forever in life.