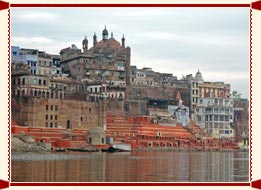 Uttar Pradesh is one of the most culturally vibrant states in India. The state has a glorious past of which it is very proud. The state has a special place in Hinduism. Uttar Pradesh is the birthplace of two of the most popular deities of Hinduism, Lord Rama and Lord Krishna. Apart from that Varanasi, a town in UP, has a special place in the heart of the worshippers of Lord Shiva.
In that case it is not surprising that the state boasts off some of the most popular and beautiful temples of India. The most notable in terms of temples is Mathura, the birthplace of Lord Krishna. The main temple is known as Krishna Janam-bhoomi. It is popularly believed that the temple is built at the same site where Lord Krishna was born. The temple at Vrindavan and Nandgaon are worth visiting too.
No discussion on temple can be complete without mentioning Varanasi. Varanasi, the city of eternal peace and salvation, is famous for its numerous ghats, alleys and temples. The most notable among these is the famous Kashi Vishwanath temple. The temple is situated in a narrow alley and is flocked by scores every day. Another temple that is worth a visit in Kashi is Sankat Mochan temple. This temple is dedicated to Hindu deity Hanuman. Bharat Mata Mandir in Varanasi also attracts a lot of visitors. There are other minor temples in Varanasi too that are worth visiting.
Hindus all over the world consider the clusters of temples in the city of Ayodhya very sacred. Though the site has attracted lot of controversies and bloodbath in the past, it is hot favorite among the pilgrims in India. There are other important temples too such as the one dedicated to Ganges at Gadh Mukteshwar and other at Chitrakoot.