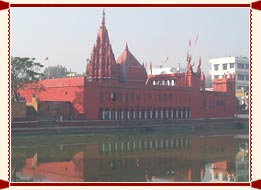 Goddess Durga is a significant manifestation of Parvati, the consort of Lord Shiva. In fact she is said to be Shakti, or the manifestation of Parvati that signifies the female element of Power and harmony in nature. Traditionally Durga temples are rare in places that are renowned as 'Shaivite' strongholds. In that case, it is surprising to find a Durga temple in the very epicenter of Shaivism. This is precisely because a Bengali Maharani built this temple in the 18th century. It is worth notable that Bengalis are considered to be the most ardent fans of Goddess Durga.
The Durga temple is considered one of the most important temples in Varanasi. Built in 18th century the Durga temple is stained in Red with ochre. Though the temple might have Bangla influence spiritually, it is built exclusively on the North Indian pattern called Nagara. Multi-tired spires that decrease in diameter in horizontal pattern mark this style. Actually separate spires are clubbed together one over another to give this feel. Though this style looks less attractive than the South-Indian Gopuram pattern, it has a feel of its own. Lately, people have started calling it Monkey Temple due to the menace created by the monkeys that inhabit the campus of this Temple.
People have a belief that the Holy Scriptures confirms the location of Goddess Durga at this spot only and she has kept this place for many centuries. She is said to protect Varanasi from the south, as one of the fierce goddess guardians of the sacred zone. People also believe that the image of Durga was never established by human hands, but is a self-manifest image. It appeared here of its own accord.