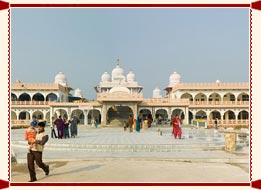 When it comes to religion, Uttar Pradesh is like a melting pot. In spite of its horrendous record of communal riots, Uttar Pradesh is a very heterogeneous society. Nearly all the major religions have some or other pilgrimage center in UP. These pilgrimage centers attract lots of pilgrims every year and add to the coffer of state government.
Hindus constitute the majority of the inhabitants of Uttar Pradesh. Some of the most important pilgrimage sites of Hindus are in Uttar Pradesh only. None is holier than Varanasi if it comes to that. Varanasi, on the banks of the Ganges, is invariably popular among the followers of all the sects of Hinduism but has a special place in the hearts of Shivites. Equally popular if not more is Allahabad. The significance of Allahabad lies in the fact that it is situated on the confluence of Ganges, Yamuna and a mythical river called Saraswati. A fair, known as Kumbh Mela, takes place every 12 years at Allahabad and attracts millions of people.
Mathura is another popular pilgrimage among the Hindus. The city is the birthplace of Lord Krishna, a famous Hindu deity. Other famous pilgrimage sites that are associated with Lord Krishna are Nandgaon and Vrindavan are also very popular among the tourists. Ayodhya, the birthplace of Rama is another popular pilgrimage destination. Though this city has been marred by political and communal activism since decades, it still attracts voices of sanity.
Uttar Pradesh is a very important destination for Buddhists too. The Sarnath-Kushinagar-Shravasti circuit holds some of the most important Buddhist pilgrimage sites in the world. It was in Sarnath that Lord Buddha gave his first sermon after he got enlightened. This circuit has various Stupas and monasteries that attract scores of tourists every year.
As far as Islam is concerned, Uttar Pradesh is home to many of the shrines that belong to the hermits of Barelvi Sufi Order. The most important and popular among them all is the mazaar of Sufi saint Hazrat Salim Chisti at Fatehpur Sikri, near Agra. There is another place, called Dewa Sharif, near Lucknow that has a shrine of Sufi saint. Both these places attract thousands of zyareen (Muslim Pilgrims) on the occasion of annual Urs (Birthday) of these Sufi saints.