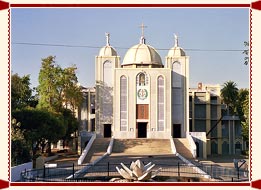 Jhansi is not only the most important city in Bundelkhand region but also one of the most important in entire Uttar Pradesh. The city has lots of historical, cultural and heritage value attached to it. The city has actually become synonymous to the Rani of Jhansi, Lakshmi Bai and the Sepoy Mutiny of 1857.
The city is known for its resistance against the British in 1857. In fact, wherever you go in the city, you will find some or other place or monument that reminds of the bloodbath of 1857. Jhansi Fort that is situated a kilometer off to the town was the seat of the siege that followed the revolt. It was here that the 12th Native Regiment of the Royal British Armed Force stated the mutiny by ruthlessly murdering the British Resident and citizens of the Fort. Close by is Rani Mahal that was the seat of various conspiracies that were hatched by Lakshmi Bai, Tantya Tope and Nana Sahib.
The city is situated amidst 3 National highways namely NH 25, NH 26 and NH 3 and thus is well connected to the rest of India. The city is growing as the heartland of Bundelkhand region of Uttar Pradesh that has for long been infested by bandits and goons. The hard life of people in this region is hardened more by the lack of water and arable land thanks to the semi-arid climate and a topography ridden by "Gully erosion". These are some of the reasons behind the backwardness of this area that has extremely good tourism prospects.