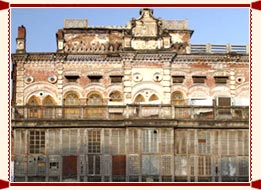 Kanpur is not only an important industrial town but also one of the most frequented tourist destinations in India. The city of Kanpur that stands on the banks of Ganges has a long tryst with the history. Kanpur, for long, has been a troubled town that has witnessed scores of bloodbath. From the " Butcher of Cawnpore" to Hindu-Muslim sibling riots, the city has seen it all.
The city has become synonymous to leather industry in Asia. The whole economy of the city revolves around production, tanning, polishing or export of leather products. This flourishing trade has brought mix fortunes for the city dwellers. While on one hand, the growing export raised the living standard of the population; on the other hand it has also intensified the communal hatred that exist between Hindus and Muslims in the city. The result is the ferocious communal riots that take place almost every decade without any break. The reasoning behind these riots is primarily rooted in the age-old commercial rivalry of the two communities that is catalyzed by even older mutual mistrust.
Nevertheless Kanpur is much more than riots and carnage. There are some very exciting tourist attractions that the tour to this city offers. These include the famous Kanpur Memorial Church and Jajmau among others. While the previous is dedicated to the souls that perished in the Sepoy Mutiny, the later is famous for the excavation works done in order to unearth the remains of later Vedic period. The city is also famous for its IIT.