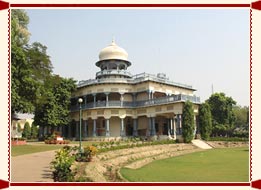 Allahabad is synonymous to Sangam. 'Sangam' actually means confluence in Hindi. The city has been named so because it is situated on the confluence of Ganges, Yamuna and mythical river Saraswati. That is why; Allahabad is counted among the holiest of cities in India. A holy fair called Kumbh marks the place. These are of three types. The one that takes place every year is called 'Minor Kumbh'. Whereas the ones celebrated every 6 years and 12 years are called Ardh-Kumbh and Maha Kumbh respectively.
The Maha Kumbh that takes place every 12 years is the largest religious or for that matter, largest congregation of humankind on the earth. In the 1988 edition of Maha Kumbh, 15 million people took dip in a single day. Guinness Book holds the figure as a world record. During the Mela, whole of the city turns in to a camp of a sort. Separate camps are pitched on the bank of confluence for different sects of hermits who are always at war. There are as many as 13 different camps dedicated to various sub-sects of Vaishnavite and Shaivite sects. There are dedicated days for these dips that are calculated by astrologers.
Nevertheless, Allahabad is much more than that. There are other attractions too. Some of them like Alfred Park and Minto Park have historical importance where as some others like Allahabad University and IIIT is the temple of learning. The city is also known for its numerous museums that includes among others, Anand Bhawan and Allahabad Museum.