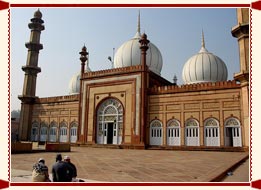 Aligarh is an important commercial as well as educational center of India. Situated in western Uttar Pradesh, Aligarh is has always remained a center for various movements that have re-shaped India. It all started with the establishment of Mohammedan Anglo Oriental College by Sir Syed Ahmed Khan in order to help Muslims come in terms with the changing realities of the world. In the later years, the city also became the launch pad for the nationalist movements in India including the famous Khilafat Movement of 1920s.
The city produced a new breed of Muslim intelligence class that contributed in the functioning of the then government and its authorities. The city has been home to various nationalist leaders; notable among those are Syed Brothers, Maulana Abul Kalam Azad, Maulana Sibli Nomani and Zakir Hussein among others.
The city has now developed itself as an important business center of Uttar Pradesh. The city is famous for its lock industry. The locks produced in Aligarh are exported all over the world. The city is an important center for Brass Hardware and sculptures as well. A visit to Aligarh is must for both casual visitors as well as researchers who want to trace origin of Nationalist movement in India.