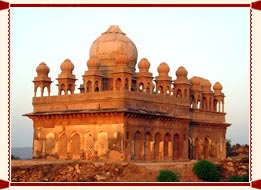 Kalinjar situated in Banda district of Uttar Pradesh is one of the major tourist attractions in the Bundelkhand region. Kalinjar in Hindi means 'The destroyer of Time'. The place got its name from a myth, which maintains that Lord Shiva vanquished the God of Time at this spot. There are other stories as well. The town situated amidst the picturesque Vindhya Mountains is known for its tryst with History.
Various rulers in the course of history have ruled Kalinjar. Notables among them are Chandela and Afghans. The place has also been mentioned in Mahabharata. It is said that the ruler of the then Kalinjar fought from the side of Pandavas. The place again rose to prominence in early 11th century when Mahmud of Ghazni annexed it. It later remained in the hold of Delhi Sultanate. Afghan warlord Sher Shah Suri died tragically while inspecting his arsenals in Kalinjar Fort only. It also figures prominently during the 1857 Revolt. The fort held a small garrison of British that was successful in repelling the onslaught of the mutineers.
There are quite a few attractions in Kalinjar to visit. The most interesting and the most frequented among them is the historic Kalinjar Fort built in 9th century by Chandela King Kedar Burman. This majestic fort stands right in the heart of Kalinjar and offers unspeakable peace and serenity to the visitors. Apart from that there is famous Neelkanth Temple. The Chandela ruler Parmardi Dev built this temple. The temple stands in a niche by the rock-cut Swagger Roan pool. The temple is famous for its colossal 18-armed image of Kaal Bhairav, the fearsome aspect of Lord Shiva.