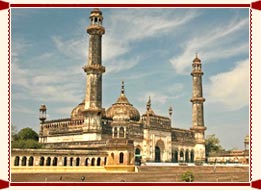 Lucknow, the city of Nawabs, has never ever lost its relevance in the Indian history and culture. The city inspires manner in a way that people who have not experienced in, yearn for it. Lucknow has always ruled as one of the most important centers of Muslim cultural influence in South Asia along with Delhi, Lahore and Hyderabad. Courtly manners, Charbagh, Qauwwali, Chikankari embroidery, Kabobs and the contributions of poets patronized by Lucknow Nawabs are well known all over.
The history of the city is as vivid as itself. It is believed that the city has been named after Lakshman, the younger brother of Lord Rama. The city was earlier called Lakshman Pore that later turned in to Lucknow. The city rose to the prominence during the reigns of Nawabs who built numerous Palaces, Haveli, Mosques and other Monuments. The most illustrious and equally mocked upon Nawab of Lucknow is undoubtedly Nawab Wajid Ali Shah. The city later passed to East India Company after Nawabs lost the battle of Buxar in the year 1764. The city remained the capital of Awadh or Oudh province of the British and went on to become the capital Central Province and in turn Uttar Pradesh.
The city offers a range of monuments for the visitors to see and appreciate. The most important among these are Imambara. There are lots of Imambara in Lucknow but the most famous ones are Chota Imambara, Bada Imambara and Shah Najaf Imambara. These are the sites of annual 'Azadari' or mourning sessions that occur in the Islamic Month of Mohharum and called 'Asura'. The Tazia processions and Marsia sessions of the old city are trademarks of Lucknow and so are its foods.
Nowhere and I repeat, Nowhere in Asia would you find a city so synonymous to its culinary. The food culture of Lucknow has no parallels at all. The most favored and served delicacy of Lucknow are Kabobs. There is a range of it available in the old Lucknow area but the most favored destination is 'Tunda Kabob'. 'Kulcha-Nihari' is another popular dish mostly taken as breakfast. Other masterpieces include Biryani, Paya and Halim. For the vegetarians, 'Malai Kofta' and 'Tehri' are good options.