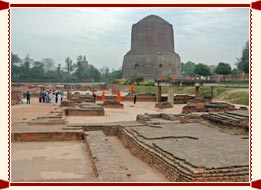 Sarnath along with Lumbini, Gaya and Kushinagar forms the Buddhist Quadrilateral in the Indian Sub-Continent. These places are in a way related to the life, times and the philosophy of Lord Buddha. Lumbini is the place where Lord Buddha got birth and Gaya marks the place where he got enlightened. While Sarnath and Kushinagar are the places where Lord Buddha gave his first sermon and attained Nirvana respectively.
Sarnath has an important place in Buddhist way of life, as it is the place where Lord Buddha gave his first sermon after he got enlighten in Bodh Gaya. A beautiful Stupa marks the actual spot where the sermon was delivered. It is called Dhamek Stupa. The place is a must visit for every tourist flocking India. Apart from that Sarnath has other attractions too. The most interesting among those is the famous Ashoka Pillar. The pillar is one of the many erected by Emperor Ashoka through out his entire kingdom after he converted to Buddhism. Sarnath museum is another tourist destination worth visiting in Sarnath. The place treasures some of the most valuable possessions and relics related to Buddhism.
Sarnath is well connected to the rest of India through airways and railways. The nearest airport and railheads are Varanasi that is well connected to cities like Bangalore, New Delhi, Kolkata, Chennai and Mumbai.