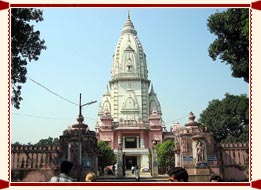 The Vishwanath temple is synonymous to Varanasi. Vishwanath Temple is the most sacred and the most famous temple in Varanasi. In fact, Vishwanath Temple is extremely popular in other parts of India too. A considerable chunk of foreign visitors in India come to Varanasi every year to get a glimpse of the Vishwanath Temple even though the followers of Semitic religions are not allowed to enter the sanctum of the temple.
The history of Vishwanath Temple that is also called Golden Temple at times is full of ups and downs. The temple and city has always been on the receiving end of the invaders be it Afghans, Turks, Rohila or Marathas. The temple has been built and razed to the ground several times in the history. It was first destroyed by Bakhtiyar Khilji in the 13th century and was later rebuild. Emperor Akbar donated several acres of villages to the trust that was later cut down substantially by Aurangzeb. Aurangzeb was a fundamentalist who hated every possible religion and sects in India including Sufi and Shiite order among the Muslims. Rani Ahilyabai Holkar of Indore built the present temple that stands in Varanasi, in the year 1776. Maharaja Ranjit Singh of Lahore donated the 800-kilogram Gold-plating of the towers that gives the temple its colloquial name.
Vishwanath Temple in Varanasi is dedicated to Lord Shiva, the destroyer of worlds and the presiding deity of the city. It is said and believed that Varanasi is the spot at which the first 'Jyotirlinga' broke through the earth's crust and flared towards the heaven. Lord Shiva did this in order to take the final call in the war of supremacy among the Hindu Gods. Next to the temple is the Well of Knowledge where, as legend goes, the original Shiva lingam lies hidden. More than the Ghats and even the Ganges, the Shiva lingam installed in the temple remains the devotional focus of Varanasi.