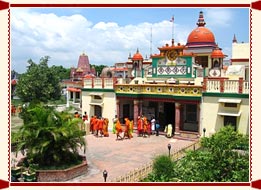 Japanese Temple
Japanese Temple is one of the most beautiful temples in Kushinagar. This is a must visit site during your tour to Kushinagar. A magnificent 'Ashta Dhatu' or 'Eight Metals' statue of Lord Buddha marks this temple. This statue has been brought from Japan in dismantled form and was later joined before it was established in this temple. The temple itself is worth appreciation. The Atago Isshin World Buddhist Cultural Association has erected this temple that was generously funded by the Japanese Monarchy. The temple consists of a single circular chamber, housing a golden image of Buddha, softly lit through small stained-glass window.
Watt Thai Temple
Watt Thai Temple is one of the most beautiful and most visited temples in Kushinagar. Watt Thai Temple is only one of its kinds not only in Kushinagar but also in whole of Indian Sub-continent. The temple is centrally located in Kushinagar and that is why it can be seen from anywhere and everywhere in Kushinagar. The Temple has been laid out on a lush green lawn that is spread in several acres of land. This beautiful Temple was designed in order to serve as a Forest-Monastery. That is why the campus of this temple boasts off innumerable kinds of trees, plants, herbs and shrubs that make it more beautiful and watch able. This temple was erected to commemorate the Golden Jubilee Celebrations of His Majesty King Bhumibol 's accession to the throne of Thailand. The gates of this truly magnificent temple was opened to the general public in the year 2001; since then this temple has remained at the helm of affairs in Kushinagar.
Chinese Temple
Chinese Temple is another fairly frequented tourist destination in Kushinagar. The temple is famous for its distinct architecture that puts it away from the numerous Buddhist Temples in Kushinagar. The architecture of this temple is predominantly 'Han Chinese' and has design elements that have been borrowed from various provinces of Mainland China. The exteriors of the temple have a subtle fusion of Chinese and Vietnamese architecture. A beautiful statue of Chinese Buddha marks the temple that attracts thousands of devotees as well as casual visitors every year. The temple also provides free stay to the pilgrims.