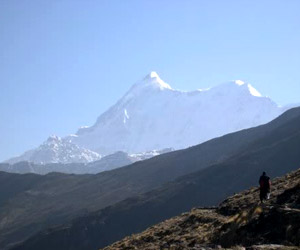 Auli, situated in Chamoli district of Uttarakhand, is a famous ski destination. It is perched at a high altitude of 2,500 meters. The place is known as 'Bugyal' in the local language which can be understood as meadows. Auli is comparable to the best ski resorts of the world according to some French and Australian experts. Treks and nature walks in Auli are also some of the other exciting activities to try. There are a number of major attractions to check out for tourists as well. Below listed are some of the tourist places to see in the small and serene hill station, Auli.
Places To See In Auli
Trishul Peak
One of the most ski-friendly ranges of Auli, the legendary Trishul peak is 23,490 feet high. Even before the ski resort tourism marked its debut on the slopes of Auli, the Trishul and other Auli peaks were used by the ski-equipped patrolling officers of the Indo-Tibetan Border Police Force as a training ground. It is said that in a 1958 expedition to scale the Trishul Peak, it took the mountaineers four days to climb and just 90 minutes to ski down to their base camp. There is a lake, Roopkand, at the bottom of the slopes of Trishul Peak. It is also known as the mystery lake because over 600 skeletal remains of humans and horses were discovered from here.
Winter Ski Resort
Auli is a famed winter ski resort. In winters, the slopes of Auli are clad with a snow carpet as deep as 3 meters. The skiing season in Auli ranges from January to March every year. Skiing on 10-20 kms of clean stretches of slopes thickly coated with snow in Auli snow is as good as an international skiing experience. Auli offers world class facilities for experienced skiers and beginners can also sign up for one week or two week long skiing courses. Everything from lodging to boarding facilities is easily available for skiers.
Joshimath
The revered sage Adi Shankaracharya is believed to have wandered and gained enlightenment in Joshimath. There are two famous temples, Narsingh and Garuda temple, to visit in Joshimath. Another attraction is the Amar Kalp tree which is believed to be some 2,500 years old. One can also check out the hot springs of Tapovan located at a distance of 14 kms from Joshimath and 32 kms from Auli.
Nanda Devi National Park
The Nanda Devi National park is located at a distance of 41 kms from Auli. Adorned with beautiful environs and abundant flora and fauna including Brahma- kamal and Bharal, it is a major attraction four tourists who come to Auli. Not more than two groups of visitors are allowed to move in the park in a day. The maximum limit for a week is four groups of visitors. Visitors are accompanied by a registered guide. The terrain is hilly and tough, so, visitors should take care to take all the precautionary steps.