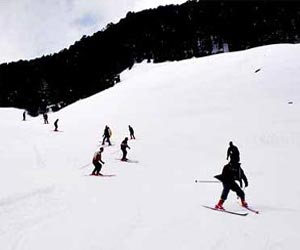 Auli is a mecca for people who are interested in having a fun-filled, thrilling vacation, right in the lap of the Himalayas. With snow-clad mountains on all sides, you are sure to get an experience of your lifetime. Apart from just filling in the enriching beauty of the site, you can also dwell in a lot of fun activities. The best feature about Auli is that it serves every kind of traveler - while adventure enthusiast can satiate their urge for thrill by engaging in skiing and trekking, there is a cable car facility for those who do not want to ski or trek. Still others such as pilgrims can satisfy their need by visiting the temple in Auli. To get detauiled information about what are the things to do and see in Auli, read through the following lines.
Fun Activities to Do in Auli
Skiing
Are you game for ruffling past the snow? If yes, then Auli is just the option for you. Skiing is one of the foremost activities tourist can look forward to when in Auli. With the snow capped mountains and the snow-bedded ground ready for you to take a plunge, all you need to do is fasten yourself to the ski board and fly off. The ski lift system is also available in Auli, which makes its easier for skiers to reach the top. And if you are on a long vacation the best bet would be learn the art completely. You can enroll yourself in the Garhwal Mandal Vikas Nigam (GMVN), which offers a fortnight-long skiing course for the amateurs.
Trekking
For those who would like to explore Auli on foot instead of ski board, indulging in trekking would be an ideal option. There are number of trek options launched from Auli. Tourist can either engage themselves in short treks that last for a few hours or go for the longer ones. Some of the trek options that can be completed in a single day are:
Auli - Gorson (7 km)
Gorson - Tali (6 km)
Tali - Kuari Pass (11 km)
Kuari Pass - Khulara (12 km)
Khulara - Tapovan (9 km)
Pilgrimage
If you have a religious bent of mind, Auli would serve your quest beautifully. This blissful hill station has a number of temples which make it a heaven for pilgrims. For those who didn't know, the deity of Lord Badri Vishal that rests in Badrinath is brought to the temple at Joshimath, during the time when the temple in Badrinath remains closed for 5 - 6 months. Apart from this, there is also a Human temple which is believed to have been the resting ground for Lord Hanuman, when he was on his way to pick the 'Sanjivani' from the Sanjivani Mountain in Himalayas, to save the life of Laxman.
Cable Cars
For those who are scared of skiing and do not want to go for trekking as well, Auli has just the right option for you - cable cars. A ride high up in the sky is sure to leave you absolutely thrilled and delighted. Stretching to about 3 kms, the rope way would help you capture the captive beauty of the snow covered peaks, the alpine forest and the bracing climate.