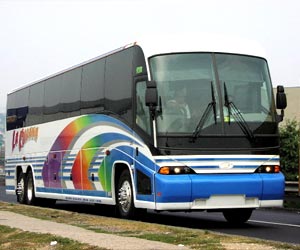 Located at the foothills of Himalayas in Uttarakhand, Corbett National park is one of the oldest national parks of India and is very popular among tourists from every nook and corner of the country. The park was initially established with the purpose of defending the endangered tigers of Bengal. It offers an amazing diversity of flora and fauna for the wild life lovers. A lot of foreign tourists also visit the park to witness its scenic beauty and the rare tigers. Below mentioned are the means of traveling to reach the Jim Corbett National Park.
Traveling To Corbett National Park
By Air
Corbett national park doesn't have its own Helipad or airstrip for air carriers to land on. The nearest airport Phoolbagh (Pantnagar) is at a distance of 80 km from the park. Flights to major Indian cities can be taken from Pantnagar. New Delhi and Lucknow are connected by regular flights
By Rail
The nearest railway station to Corbett national park is Ramnagar, which is the terminus of Delhi-Moradabad-Ramnagar broad gauge branch of North East Railway. Ramnagar is 19 km from Corbett. The most convenient way to get there by train is by Ranikhet Express. The train departs from Old Delhi Railway Station. But take care that the train bifurcates at Moradabad and extra coaches for Ramnagar are attached with this train. One part of the train goes to Kathgodam and other to Ramnagar. Hence, be sure to alight on the correct part of the train.
By Road
Ramnagar, the entry point to Corbett, is approximately 280 km by road from Delhi, via Kashipur-Moradabad-Ghaziabad. From Lucknow, Ramnagar is 432 km, via Kashipur-Rampur & Bareilly. Ramnagar is 60 km from Nainital via Kaladhungi. Regular buses leave for Ramnagar from ISBT Anand Vihar, Delhi. From Ramnagar, one can hire taxi for Corbett National Park.