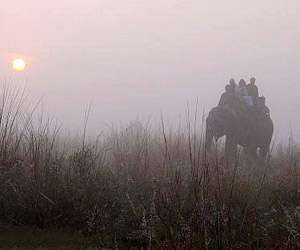 The Jim Corbett National Park has a temperate climate with three main seasons namely summer, winters and monsoons, just like the rest of India. The seasonal variations and changes in temperature have been well adapted to by the exclusive wild life species taking refuge in the Corbett reserve. Winters are the best time to visit the Corbett tiger reserve as animals can be sighted easily due to pleasant weather. November to June is the visiting months and the park is closed during the rainy season.
Summers
Summers in Corbett national park commence from March and continues till mid June. The temperatures cross the 40°C most of the times during summers. The scorching Indian heat is accompanied by dust-laden clouds which are cleared by occasional thunderstorms.
Winters
November to February is the winter season of Corbett tiger reserve. during this part of the year, weather is pleasant and humidity drops down to 57%. Animals are also easily visible in the reserve as they venture out mostly during this period. Nights can be very cold with the temperature dipping to 5 degree C.
Monsoons
Monsoon begins in mid-June and lasts up to October. Monsoons are pleasant as they bring a drop in temperature offering some respite from the blistering summer heat. The park is closed for tourists during the monsoon season as this is mating time of most of the animals.