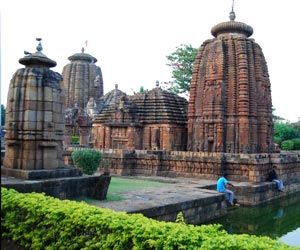 Sated with natural beauty, Mukteshwar finds mention in the list of the most popular hill stations in Uttarakhand. Its serenity is a tempting invitation to all the nature lovers and those seeking a respite from the grueling city life. Also considered as a pilgrimage destination by many, Mukteshwar boasts of a number of attractions for the tourists to chance upon. The natural landscape also makes for some terrific sightseeing on a very high altitude. Below listed are some of the famed tourist places to check out in Mukteshwar.
Places to See in Mukteshwar
Mukteshwar Temple
One of the sacred places to visit in the area is the Mukteshwar temple. Dedicated to lord Shiva, it is a legendary pilgrimage and Mukteshwar has acquired its name from the name of the temple. It is situated at the top of a hill and can be reached by climbing a series of steep stone stairs. For those who are deeply religious, trekking to the temple can be a heavenly experience, in part because of the natural splendor of the place. The temple is adorned with a marble Shivling and idols of some other Hindu deities.
Chauthi Jali
It is a historical place which is also called Chauli Ki Jali by the locals and is situated adjacent to the Mukteshwar temple. Mythology believes that a demon and a goddess had fought a battle in this place and bleak outlines in the place are to be seen which resemble a shield and the trunk of an elephant which are testimonials of the battle. Legend also has it the barren women who came here and touched the lattice around the rock were blessed with a child.
Indian Veterinary Research Institute
A British legacy, Indian Veterinary Institute is one of the leading advanced research facilities engaging in live stock research and is dedicated to the development of the region. It was established at the Imperial Bacteriological Laboratory in 1889 at Pune on the recommendation of the Cattle Plague Commission, and was later relocated to Mukteshwar in 1893. Further, it was developed into the Indian Veterinary research Institute. There is a library and museum as well inside the institute campus.
Mukteshwar Inspection Bungalow
The PWD inspection Bungalow in Mukteshwar is an architectural wonder. It is situated close to the Mukteshwar temple and is a landmark in the town. The bungalow has lush green surroundings and beautiful views which makes it a must-see in the hill station. In fact, it is the perfect place to stay in Mukteshwar if you are halting for a couple of days. Blessed with amazing natural beauty and beautiful architecture, the bungalow has a unique charm.