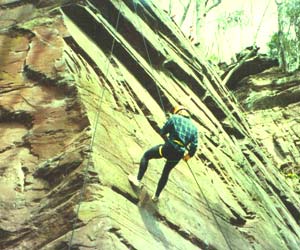 Mukteshwar is a calm and serene hill station located in the state of Uttarakhand in India. Encompassing the majestic beauty of Himalayas and other scenic splendors, Mukteshwar is one of the most popular hill stations in Uttarakhand. It is haunted by tourists in summers when the Himalayan weather is pleasant and comforting. The breathtaking beauty is a natural choice for nature lovers to spend some quality time in the quiet company of nature. Below mentioned are some of the fun things to do in Mukteshwar, apart from sight seeing and absorbing the stunning natural glory.
Fun Activities to Do in Mukteshwar
Trekking
Mukteshwar is famous for trekking trips as it makes for the perfect combination of adventure and fun. Some of the trekking trails are Peora to Mukteswar (8kms), Peora to Almora (16 kms), riverside trek (6 kms) and Binsar to Artola Trek (73 kms). Trekkers can also chart some new trekking paths if they wish to explore the unknown. Donít forget to put on your trekking shoes and make minimum noise while you trek, so as not to disturb the nature.
Nature Walks
Mukteshwar is the ideal destination for those who want to connect with the nature and absorb its soothing beauty. While it provides for some amazing sightseeing, quite walks in the natural environs have an enticing charm of their own. Nature walks are the best way to rejuvenate your mind and feel afresh. One can go for a long walk in the evening. Early morning nature walks can be the very pleasant to delight in the morning freshness and admire the matchless beauty of the mighty Himalayas.
Rappelling
Rappelling in Mukteshwar can be a fabulous experience. A lot of tourists visit Mukteshwar for the purpose of engaging in rock climbing and rappelling. This can also be coupled with forest picnics or camping to double the fun. Take the necessary equipments along and ensure that you are taking proper protection against danger. Seek the help of professional instructors, if you have not done rappelling before.
Heritage Viewing
The Indian Veterinary Research Institute in Mukteshwar is a legacy of the British reign in India. It is one of the premier institutes in India conducting research on livestock. The tourists can also check out the library and museum inside the institute. There is a PWD inspection bungalow in Mukteshwar which is known for its colonial architecture and is landmark in the hilly town. Visitors can put up in the Bungalow for a day or two for a complete experience.