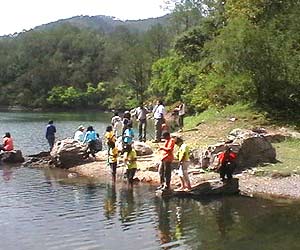 An interconnected group of seven freshwater lakes, Sat Tal can be christened as one of the best places to enjoy natural beauty and bird-watching in Uttarakhand. Sattal is applauded for its biodiversity and is famous for being the abode of approx. 500 species of resident and migratory birds, 20 species of mammals, over 525 species of butterflies and more than 11,000 species of moths, beetles, bugs and other insects. Likewise, its flora boasts of diverse range of plants ranging from orchids, rare climbing plants, medicinal herbs and shrubs. If this interests you, and you want to know more about things to do and what to see in Sat Tal, read this article till the end.
Trekking Is Always Good!
Once you start trekking, the rhododendron and oak forests will welcome you in the beautiful periphery of Sattal. If jungles are not so interesting to you, then you may find solace in taking a stroll along the lakes. It's beautiful!
Try Kayaking and Fishing!
If you wish to do kayaking, you can ask your camp to arrange the same for you. For fishing, you can take permission from the local authorities and hire equipments from the camp.
Paddle In The Waters!
Paddling in waters can work as a calories-burning workout for you in Sat Tal. Yes, boating option is always open for the people who donít want to be adventurous in jungles. If you want a sedentary job, then you can ask the boatman to come along for rowing.
Indulge in Bird-Watching!
As you have been supplied with the adequate information about the birds in Sat Tal, bird-watching would be another leisure activity for the bird lovers. It's for sure that you'll not be disappointed. You can also visit the local Butterfly Museum where you can watch over 2,500 butterfly and moth specimens and 1,100 species of insects.
Adrenaline Rush Is Guaranteed!
If all the above-mentioned activities havenít captured your interest, then this might be interesting for you. Rock climbing, rappelling, river crossing and mountain biking are some of the high action activities offered by the adventure camps at Sattal. If you want to experience something extra, then rappel down Suicide Rock under the watchful eyes of the guides. It's amazing!