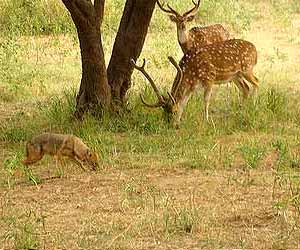 Jim Corbett National Park used to be just another Himalayan forest until in 1936 it was demarcated as a reserve area by the British Government. Jim Corbett Park is spread over 520 sq kms and is covered with huge stretches of Savannah type grasslands and Sal forests. In 1957 this place was renamed as Jim Corbett National Park from Hailey national Park. It was declared as an almost exclusive Tiger Reserve on 1st April 1973 with the help of World Wildlife Fund. Since the place is situated on the lower Himalayan belt of vegetation, it is an eco-tourism spot too.
Location
Jim Corbett National Park is located in the Nainital district of Uttarakhand, near Ramnagar-Kashipur highway. The reserve takes in the Patli Dun valley formed by the Ramganga River.
Climate
The weather in the reserve is almost temperate and sunny, though it may be foggy in early mornings. The temperature varies from 5°C (4°F) to 30°C (86°F). Summer temperatures normally do not rise above 40°C (104°F). Rainfall ranges from light during the dry season to heavy during the monsoons. The average rainfall per year ranges from 1400mm - 2800mm.
Flora & Fauna
Prior to 1936, the Maharaja of Rewa exploited this place as his 'shikar jungle', largely due to its varied vegetation and animal population. The species of animals in Jim Corbett consists of the White Tiger, Throated Martem, Himalayan Palm Civet, Indian Grey Mongoose, Para, Kakka, Ghoral, Bar-headed Goose, Duck, Grepe, Snipe, Turtles, Python, Common Otter, Porcupine, Clack-taped Hare, Chital, Spotted Deer, Viper, Cobra, Krait, King Cobra, Tortoise, Graylag, Sandpiper, Gull, Cormorants and Egrets. The 488 species of flora residents are Sal, Savannah Grass, Anogeissus-Acacia catechu forests, Mallotus philippensis, Jamun and Diospyros tomentosa.