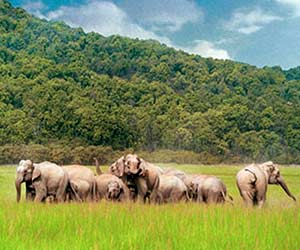 Rajaji National Park was established in 1983 amidst the bio diverse area of the Shivalik Hill range on the Himalayan foothills. The national park's name has been dedicated to C. Rajagopalachari, fondly known as Raja Ji. He was a prominent freedom fighter, the 1954 recipient of Bharat Ratna and the second and last Governor-General of Independent India. The reserve is spread over 820.42 square kms, covering almost three districts of Uttaranchal (Haridwar, Dehradun and Pauri Garhwal). The park has 10 comfortable guest houses and visitors are allowed to cook their own food.
Location
Rajaji National Park is situated in the foothills of the Shiwalik Eco-System near Dehradun, Haridwar and Ramgarh.
Best Time to Visit
The park is open from 15th November to 15th June every year. It is closed during monsoons. The altitude level ranges from 300 to 1345 m above sea level so the temperature hovers around 13.1°C (minimum) to 38.9°C (maximum).
Accessibility
There are three ways to enter the Rajaji National Park. The first is through the Dehradun to Delhi State Highway which forms the western boundary of the park. The second is through Dehradun-Doiwala-Rishikesh-Haridwar State Highway which passes through the forests of Ramgarh, Motichur, Kunao and Chila. One can also reach the park through Saharanpur by train. One has to get off at Mohand and them its and hour's journey by road.
Flora
The stable vegetation of the park is basically Northern Tropical Moist Deciduous Forest and can be separated into six categories. The divisions include the Sal forest (the dominant tree vegetation in the area), the mixed forest (which includes trees like Acacia catechu and Vetiveria zizanioides), the riverside forest which has the vegetation occurring in water logged areas like moss, the 'scrub' forest is the dry deciduous forest area, the grassland and the sub-tropical pine forest on the higher Shiwalik range with small or stunted trees such as Pinus roxburghii (Chir). The other vegetation species consist of Haldu, Bachera, Kharpat, Phauri, Amaltas, Peepal, Bel, Kachnar, Ber and Karaunda.
Fauna
The Rajaji National Park has approximately 49 species of mammals, 315 species of birds, 49 species of reptiles, 10 species of amphibians and 49 of Piscean species. This park has the largest population of elephants in Uttarakhand and a large population of tigers and leopards. The other inhabitants of the park consist of Wild Cat, Goral, Rhesus Macaque, Himalayan Yellow Throated Marten, Monitor, Lizard, Indian Hare, Sloth, Himalayan Black Bear, King Cobra, Jackal, Barking Deer, Sambar, Wild boar, Indian Langur, Indian Porcupine and Pythons. The population of birds consists of the Great Pied Hornbill, Himalayan Pied Kingfisher, Sparrows, Fire Tailed Sunbird and the Peacock (Indian National Bird).