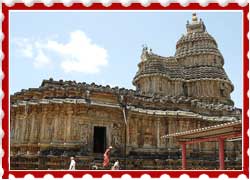 Chikmagalur excursions would take you to some enchanting locales and sacred pilgrimages.
Sringeri (90 km)
Regarded as one of the most sacred Hindu pilgrimages in South India, Sringeri was the abode of Shankaracharya, the great 9th century philosopher and social reformer. The exquisitely sculptured Vidyashankara Temple overlooking the Tunga River, houses the Vidyatirtha-linga and is a synthesis of Dravidian and Hoysala temple architecture.
Inam Dattatreya Peetha (30 km)
The Inam Dattatreya Peetha, nestled in the Baba Budangiri hills, is a revered shrine for both Hindus and Muslims. A laterite cave here is believed to have sheltered, at different times, both Guru Dattatreya and the Muslim saint Hazrat Dada Hayath Mir Khalandar, sent to India by Prophet Mohammed. Muslims celebrate urs at the site three days every year in the month of Rabi-ul-Avval, the third month of the Islamic calendar while Hindu devotees observe Dattatreya Jayanti every year during Kartik Poornima celebrations.
Kemmannugundi (50 km)
Nestled amidst the green canopy of Baba Budan hills, Kemmannugundi is a scenic hill station and a popular trekking spot. Also known as KR Hills after Woodeyar king Krishnaraja Wodeyar IV, Kemmannugundi attracts tourists looking for an idyllic vacation in the hills.
Muthodi (32 km)
A perennial favorite in excursions around Chikmagalur. The Muthodi wildlife sanctuary is endowed with rich flora and fauna with the tributaries of the Bhadra River winding through it. It is home to a diverse and exciting range of wildlife - bisons, elephants, tigers, panthers, sambars, spotted deers, wild boars, porcupines, peacock, parrot, partridge, pigeon and snakes.