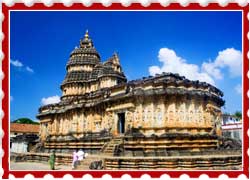 Regarded as one of the most sacred Hindu pilgrimages in South India, Sringeri was the abode of Shankaracharya, the great 9th century philosopher and social reformer. Shankaracharya established here the first of his four maths, the other three are at Joshimath in the Himalayas, Puri to the east and Dwarka to the west. As Shankaracharya's preaching reached distant shores, Sringeri came to be known as a seat of learning and spiritual wisdom.
Overlooking the Tunga River, the exquisitely sculptured Vidyashankara Temple enshrines the Vidyatirtha-linga. An amalgamation of Dravidian and Hoysala temple architecture, the unique feature of the temple is the twelve zodiac pillars arranged so that the sun's rays fall on the pillar corresponding to the appropriate month. Typical of Hoysala style, the temple structure stands raised on a high platform and is laid out on a circular star-shaped plan.
Established by Shankaracharya, the Sri Sharada Devi Temple is dedicated to Sharada, an incarnation of goddess Saraswati. The presiding deity of the temple stands on a Sri Chankra (yantra). The temple houses one of the Sphatika-lingas given to Shankaracharya by Lord Siva in the Himalayas.