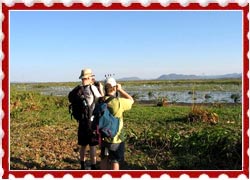 Chikmagalur is district in Karnataka, with its headquarters of the same name. It is said that the place was given as dowry, to the younger daughter of Rukmangada, because of which it got its present name Chikmagalur (which means 'the town of younger daughter'). Apart from its tea and coffee estates, Chikmagalur is also known for being a hotspot of adventure activities, especially wildlife viewing, bird watching and trekking. Then, it also serves as a base for two major pilgrimages. To help you know more about what to do and see in Chikmagalur, we have provided the relevant information in the lines below.
Fun Activities to Do in Chikmagalur
Wildlife Viewing
Approximately 30 km away from Chikmagalur, you will find Bhadra Wildlife Sanctuary, nestled amidst the lofty peaks of the Western Ghats. Established in 1951, as Jagara Valley Game Reserve, it was reconstituted as the Bhadra Wildlife Sanctuary in 1974. The highlights of this sanctuary are tigers and elephants. Apart from that, you can also find gaur, panther, sambar, spotted deer, mouse deer, barking deer, sloth bear, wild boar, wild dog, mongoose, porcupine, jackal, and the common langur roaming around.
Bird Watching
Apart from the wide variety of wild animals that can be seen in Bhadra Wildlife Sanctuary, you can also look forward to exploring a rich avifauna. The sanctuary is home to numerous bird species, of which the ones worth noting are black winged kite, king vulture, great horned owl, great pied hornbill, Indian tree pie, black napped flycatcher and the open billed stork. In other words, bird lovers will find the place truly a paradise.
Trekking
The adventure seekers coming to Chikmagalur would find their need for adventure fulfilled by the trekking opportunities that the place offers. One of the best trekking trails around Chikmagalur is the one to Kemmanagundi, a beautiful hill station located amidst the lush forests of the Baba Budangiri hills. On the way to the hill resort, you will get to lay your eyes on panoramic views, especially those of cascading waterfalls and mesmerizing sunsets. From Kemmanagundi, you can also undertake a trek to 'Kalahasti Falls', around 8 km away. Kudremukh is another place near Chikmagalur that is a trekker's paradise.
Pilgrimage
Chikmagalur is situated close to a number of places that are important from pilgrimage point of view. One of them is Belavadi, which boasts of hosting a number of ancient temples and shrines, of which the most revered one is Veeranarayana Temple. Then, there is place known as Sringeri, believed to be the abode of Shankaracharya. One of the most sacred Hindu pilgrimages in South India; it houses the Vidyashankara Temple and Sharada Devi Temple.