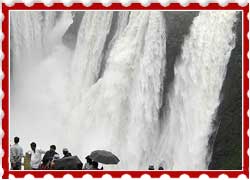 If you are looking forward to unwind amidst exotic locales, Shimoga excursions tour would suit you just fine.
Jog Falls
The Jog falls is created by the Sharavati river tumbling down from a height of 829ft. (253m) in four distinct cascades - known locally as Raja, Rani, Roarer, and Rocket. Regarded the highest waterfall in Asia, Jog falls is one of the major tourist attractions in Karnataka.
Agumbe
One of the highest peaks in the Western Ghats, Agumbe is famous for enchanting sunsets and endangered animal species like the Lion Tailed Black Macaque.
Barkana Falls
The Barkana falls and picturesque Barkana valley are major tourist attractions. By trekking through mountain trails, one can reach up to the Barkana viewpoint that offers a panoramic view of the valley beneath.