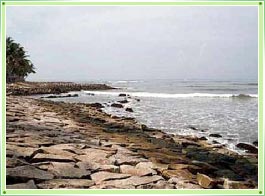 The Thirumullavaram Beach in Kerala is situated at a distance of around 6 kilometers to north of Kollam. Unexplored and untouched by time, the beach offers unadulterated tranquility and peace of mind. In case you are looking for an ideal way to spend a peaceful and quiet day, far away from the bustling life, in Kollam, Thirumullavaram beach is the place for you. Just lie down on the soft sands while soaking up the sun and relaxing quietly in the lap of nature.
The quiet and isolated beach provides plenty of opportunities for not just relaxing, but also other activities like swimming and sun bathing. The waves over here are pretty calm so you can venture out in the sea without much of hindrance. The beach is a favorite haunt among tourists and locals and is easily accessible from anywhere in Kerala. The beach has golden sands and the turquoise blue sea makes it picture perfect.
How to Reach Thirumullavaram Beach Kollam
By Air
Located at a distance of 70 kilometers, Trivandrum International Airport is the closest to the beach.
By Rail
The Kollam railway station is located at a distance of around 5 kilometers from this beach.
By Road
The beach is well connected to Kollam and Kerala by a wide network of roads.