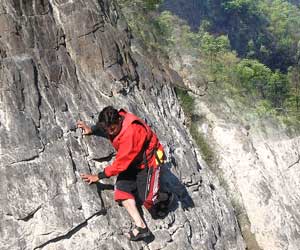 Topography of Rishikesh is blessed with turbulent rivers, getting their energy from various rivulets and tributaries from the glaciers above. These rivers and their nearby areas make excellent spots for adventure sports like White Water Rafting, Canoeing, Trekking, Rock-Climbing / Mountaineering, Camping and Skiing (especially in winters). Located in the state of Uttarakhand, Rishikesh is a beautiful place with its immaculate ambience, abundant flora, glowing incense firewood and the air ringing with temple bells. There are lots of different adventure sports one can enjoy while in Rishikesh, some of them are listed below.
Trekking
One can start their treks from Rishikesh as a base but can continue on different routes depending on individual preferences. The most preferred route is that of the six kms long Kedarnath-Vasukital Trek covering Rishikesh to Gaurikund and then Kedarnath to Vasukital reaching to Gaurikund and finally back to Rishikesh.
River Rafting
The rapid spots in the rivers near Rishikesh are considered excellent for river rafting for both first-timers and veterans. The most appropriate time for river rafting depends on the sufficiency of the quantity of water. Thus the months of September to November and March to May are most suitable for this activity.
Jungle Safari
Taking a Jungle Safari has recently become popular due to the latest spurt in the green cover in forests. There are many national parks quite near to Rishikesh like Jim Corbett National Park and Rajaji National Park. Both have extensive forests and one can explore the places by hiring a jeep, a bus ride or the best option – an elephant ride.
Rock-Climbing / Mountaineering
Rock-Climbing and Mountaineering is usually carried out at George Everest House, in Phool Chatti near Rishikesh. There are excellently trained instructors who help in rock climbing, giving information on equipment required for mountaineering and rock climbing with transport facilities and have a working knowledge of camping, catering and most importantly First-Aid.