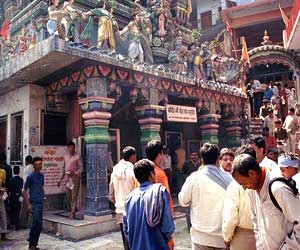 Neelkanth Mahadev is an ancient temple situated at a height of 1675 m, on a hill above Swarg Ashram. It stands adjacent to the mountain ranges of Nar-Narayan, at a distance of approximately 20 km from Rishikesh. It is enveloped between the valleys of Manikoot, Brahmakoot and Vishnukoot. Pankaja and Madhumati, two perennial rivers, meet in confluence at this enormously-rich religious site. The place is surrounded by dense forests and beautiful rivers, making the location a mesmerizing scenic vista.
The 12-km stretch from Swarg Ashram to Neelkanth is also an ideal place for trekkers. The place, other than being known for the holy shrine, is also famus for being a picturesque site and an amazing landmark, surrounded by valleys, mountains, forests and rivers. Neelkanth Mahadev, the name of the temple has been derived from the name of Lord Shiva, which means 'the God with a blue throat'. It is said that Lord Shiva consumed the venom that oozed out during the 'Samudra Manthan', the churning of ocean, which made his throat blue in color. This is why He is known as 'Neelkanth', giving the temple its name.
Mythological tales say that 'Neelkanth Mahadev Temple' is the sacred location where Lord Shiva consumed that venom from ocean. The temple was established to pay regards to him. The temple has an ancient architecture and a beautiful complex, comprising of a one natural spring where devotees take a holy bath before entering the premises of the temple. The sanctum sanctorum of the temple houses a 'Shiv Lingam', the idol of the presiding deity in a phallic form.
The devotees who pay a visit to 'Neelkanth Mahadev' make an offering of coconut, flowers, milk, honey, fruits and water to the Lord and get 'Parshad', the holy gift from God, in forms of 'vibhuti' (ashes), 'chandan' (sandal-wood) and other holy things from the shrine. There is a special aura about the temple, which fills devotional hearts with celestial pleasure. This is the reason why it is visited by thousands of devotees every year.