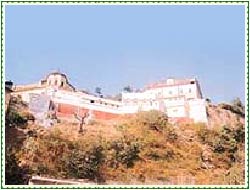 Situated at a distance of approximately 40 km from Shimla, Arki is a small town in the Solan district that was once the capital of the princely state of Baghal. Gurkhas trying to invade the city used Arki Fort as their stronghold during the Gurkha Wars that went on till 1815-16. The fort offers both the historical legends and artistic creations to the tourists. It is built on the hillside, in terraces. Rana Shiv Sharan Singh laid down the foundation of the famous Diwankhana of the Arki Fort Palace in the year 1830.
It presents a fusion of Rajput and Mughal architectural styles and shows heavy influence of Rajasthan. The beautiful murals and frescoes done in the 'Pahari School' of miniature paintings were later added by Raja Kishen Chand in 1850. These frescoes are said to be the most accurate record of the contemporary lifestyle in the nearby hills of Himachal Pradesh and Punjab. They can broadly be classified as decorative floral designs, paintings that present pure fantasies straight from the artist's minds and paintings inspired by the scenic beauty of the hills.
Thematic contrasts and a balance of colors, forms and designs can be seen all around. Arki fort is now in ruins and is the private property descendants of the erstwhile ruler, Raja Rajendra Singh. A part of the fort, which is still in good condition, has been converted into a heritage resort and its well-maintained rooms reflect its royal grandeur and splendor. It provides excellent views of the snow-capped mountain ranges and glimpse of famous hill stations like Shimla, Kasauli and Subathu. Another part of the Arki Fort Palace is being used as residence by the royal family, while some of it has been lent to Home Guards.