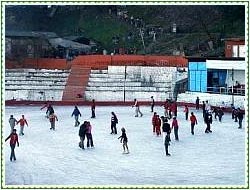 The Queen of Hills - Shimla is a beautiful town that brags of being the capital of Himachal Pradesh state in India. Natural beauty is all what you can expect from this hill-station. Yes, there is nothing whacky about this township as everything has its own plain, serene charm. The British must have noticed something beautiful about this place that's why it was chosen as their summer capital. Still, the historic buildings, picture-postcard bungalows and manicured gardens revive the times of the British era. If you are looking forward to traveling to this pretty hill-station, read this article to know about fun activities/ things to do and what to see in Simla.
Fun Activities To Do In Shimla
Explore the heritage!
If you like to see rare manuscripts and artifacts which are unique to this state, do visit Himachal State Museum and Library Houses at Inverarm Hill. Not only this, here you can see the real ethnic relics and works of art. Established in 1888, Viceregal Lodge on Observatory Hill was the residence of British Viceroy Lord Dufferin. As of today, it makes the address of Indian Institute of Advanced Studies; this place has the true renaissance charm topped by its well-maintained gardens. You can also visit the Holme, which was once the studio-cum-residence of painter Amrita Shergil.
Take the legendary walks!
If you want this trip to be romantic, then an unhurried walk is recommended through green and quaint parts of Shimla. And the best walk could be The Glen, which is actually a densely wooded ravine. It has one crystal clear mountain brook flowing through it. As you go deeper into the ravine, the area appears more beautiful. Besides, you can also explore Annandale - best known for helipad. From Scandal Point, both Glen and Annandale is around 5 km. Another lovely walk could be at Bihargaon where thick woods and an open glade will welcome you to enjoy the countryside. This village is accessible from the cemetery below St Edward's School.
Enjoy Trekking!
As you all know, Shimla is known for its landscaped beauty and serene countryside. The Prospect Hill on the Shimla-Bilaspur Road is the best option for people who don't prefer a long trek. Likewise, Summer Hill and Potter Hill are other great choices to make, for a lovely trek. Potter's Hill lies subsequent to the university campus at Summer Hill. Near the university campus stands a magnificent mansion called Manorville, which made the lodging of Mahatma Gandhi once. Earlier the house of Rajkumari Amrit Kaur, nowadays the mansion serves as the guest house of the All India Institute of Medical Sciences.
Visit Religious Places!
Kali Bari Temple at Bantony Hill is over-150-year-old temple dedicated to goddess Shamla. You can also explore the abandoned St Andrew's Church while moving towards the Roman Catholic St Michael's Cathedral. Arrive at Jakhoo Hill, which is tallest of the seven hills, to visit the Hanuman Temple. This hill is a must climb to savor the most beautiful view of sunrise. While moving towards the hill, Christ Church can also be visited along the way to admire the long-back painted stained glass windows.
Try Ice Skating!
Though you can find old-world movie halls, entertainment complexes and other such routine attractions in Shimla, ice skating is something different that is place offers. The Regal Building in Lakkar Bazaar is the place famous for its indoor roller skating rink. To enjoy skating in open-air rink, you need to head for Skating Club of Shimla, above the Rivoli Bus Stand. Here ice-skating usually lasts from November to January, when it snows there.
Go Shopping!
Shimla is famous for its exquisite woodwork. So, if you wish to invest in some antique pieces for your living room, the Mall Road is the best place to head for. Here you can bargain to get some of the best handicrafts, woodwork, shawls, pullovers, wollens, Tibetan carpets, Tibetan jewellery, etc. Apart from the Mall, some famous markets in Shimla are Lakkar Bazaar, Ganj Mandi and Ram Bazaar.