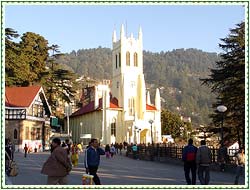 The Mall Road in Shimla is considered as the lifeline of the city. Most of the major hotels, restaurants and recreation centers are situated along the road, making it a place which cannot be left untouched by any visitor. Mall Road is the main tourist attraction in the town and serves as the centre of Shimla's bustling social life. British constructed it and every precaution was taken to make sure that the road does not get adversely affected. One such step was to ban entry of vehicles on the road.
Buildings and other erections have colonial influence on its architecture. The Mall Road has numerous showrooms, stores, departmental stores, shops, restaurants and cafes, stuck closely to each other. All kinds of handicraft products of Himachal Pradesh, like locally-made woolen cloths, pottery items, jewelry, books, and local eatable items, especially pickles, are available on the Mall Road. Additionally, it is famous for its wood shops.
These shops specialize in furniture manufacturing. The furniture made here is of antique look. Bargaining is not a bad idea here, as shopkeepers say haywire prices of the products and it is really tough to judge the actual price. There are no vehicles allowed on the Mall, so it is always bustling with tourists on foot. The Mall is mostly full of jovial people. People enjoy pleasant environment and natural beauty and hang the whole day at the place.
Attractions on The Mall
Christ Church
The huge colonial monument is a classic example of British art of church construction. Christ Church is the second oldest church in North India. Its exquisite beauty comes alive with the stained glasses, which have been fitted on its windows.
Kali Bari Temple
Constructed in the year 1845, Kali Bari Temple is dedicated to Goddess Shyamala. It is from the name of Goddess Shyamala that Shimla derived its name. The shrine of Shyamala was earlier in Jakhu hill. British brought it to the new site.
General Post Office
The General Post Office, situated on Mall Road, is a well-carved building, which has been constructed out of wood. The post office still follows the system of Tonga mail delivery in Shimla.
Scandal Point
The name Scandal arises from the elopement of Maharaj of Patiala with a British lady. Scandal Point is the highest point on The Mall and also forms its very end Road. One can have the views of valley and mountain peaks from here.