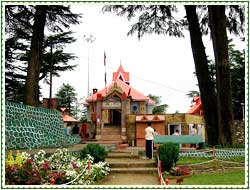 Jakhu Temple is situated on the top of Jakhu Hill, in Shimla city of Himachal Pradesh, at the altitude of 2500 meters. The temple is dedicated to Lord Hanuman and is believed to be in existence from the times of Ramayana. Situated in the thick forests of Jakhu hills, the temple derives its name from the Hindi word Yakhsa. Yakshas are the mythological characters in Hindu mythology, believed to be a link between humans and Gods.
According to the legend, Jakhoo temple was formed when lord Hanuman visited Jakhu hill, during the famous Rama - Ravana fight. Lakshman, the younger brother of Ram, was critically injured during the fight and the only medicinal herb which could have saved his life was available in the Himalayan range. Hanuman came to Himalayas, but got confused, so as to which was the particular herb. Finally, he got that herb and flew to Lanka, the kingdom of Ravana.
It was on his way to Lanka that Hanuman rested on the Jakhu hills. It is said that the top of the mountain got flat by his and the mountain's weight. The temple of Jakhu has since been highly revered by the locals. There are hundreds of monkeys in and around the temple, who have made this temple and the area around it their habitat. You can easily offer them eatable with care, from a distance, without any danger of their harming you.