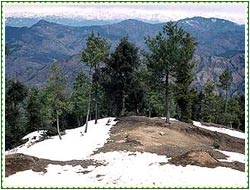 Kufri, along with its surrounding region, once formed a part of the Kingdom of Nepal. It was a secluded area until 1819, when the British discovered it and developed it as a tourist destination. Kufri also earned the recognition and attention of tourists due to its proximity to the much more famous hill station, Shimla. The main attractions of this amazing hill resort include Mashru Peak, Himalayan Nature Park and Indira Tourist Park, along with the various opportunities that it presents for hiking and skiing to adventure enthusiasts.
The cool and salubrious climate of Kufri also serves as an attraction for the people who travel to Himachal Pradesh for their holidays. Its beautiful scenery makes it a photographer's delight and the famous trekking and hiking trails attract many adventure-seeking tourists. In winters, people from all over India converge here for skiing, strengthening its tourism industry. They also go for tobogganing on its snow-covered slopes, mostly during the months of November to February. One can also enjoy a pony or yak ride at Kufri.
Kufri Tourist Attractions
Himalayan Nature Park
The safari in Himalayan Nature Park offers you a number of species of terrestrial and avian fauna, unique to Himalayas. The wildlife attractions here include the Musk Deer, Ibex, Black and Brown Bears and Pheasants.
Indira Tourist Park
The Indira Tourist Park, situated near the Himalayan Nature Park, is famous for scenic views of the surrounding areas. It is one of the most popular picnic spots in Kufri and provides the much-needed respite from the hectic city life.
Mahasu Peak
A hike up to the Mahasu Peak, through thickly wooded forests of spruce and deodar, is definitely worth undertaking. It will lead you to the small temple at the top, set amidst a delightful setting. Mahasu Ridge also offers good slopes for skiing.