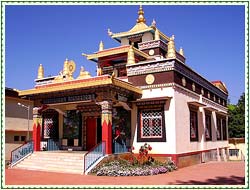 Tara Devi temple is located on Tarav Parvat, in the western side of Shimla. Situated eleven kilometer away from the hill resort, the temple provides an overwhelming view of the mountains below. Every year thousands of pilgrims visit Tara Devi temple, which has a great spiritual and heritage value. Historically speaking, the temple was built approximately 250 years ago and has an interesting story attached to it. According to the legend, Goddess Tara Devi was brought to Himachal Pradesh from the eastern Indian state of West Bengal.
It is said that a Sen Dynasty King from Bengal visited Himachal Pradesh. He was in the habit of carrying his personal family idol around the upper torso of his arm. While hunting in the dark and dense forests of Juggar, he forgot his path. Because of tiredness, he fell asleep and dreamt that his family deity Ma Tara and her consorts Dwarpal Bhairav and Lord Hanuman requested him to unveil them before the common populace. The king donated 50 bighas of land and sponsored the construction of the Tara Devi temple.
The later kings of his dynasty added to this temple. King Balbir Sen commissioned the 'Ashtdhatu' (mix of eight metals) deity enshrined here. Situated among sweet smelling pine forests and lush green meadows, Tara Devi Temple can be traversed uphill. Cool and gentle breeze coming from these forests touches tourists and refreshes them entirely. The location of the temple on the hilltop makes it appear that the goddess Ma Tara Devi keeps everyone under her protective gaze, showering innumerable blessings on her worshippers.