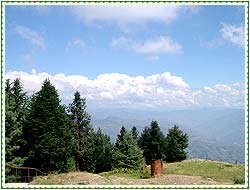 Shimla, a beautiful hill station adorned with lush greenery and exquisite natural beauty, is visited by a large number of tourists every year. Located on the slops of lower Himalayas, the place enjoys favorable weather conditions throughout the year. Temperature is moderate over the year and during summers; it is definitely an ideal place to be in. With its maximum temperature of 28 degree in summer, the place becomes 'summer camp' for many well to do families in India. Winters, on the other hand, bring the white blanket of snow. Read on to get more information on the weather and climate of Simla.
Winter
Winters in Shimla are chilling. December, January and February are the months when Shimla experiences heavy chilling cold, with chilly winds coming from Himalayan snow peaks. During winters, the temperature goes below freezing point and nights are bone chilling. Snowfall is also very common. Maximum temperature during winters is 8 -10 degree Celsius. Heavy woolen garments are recommended to wear during the winters.
Summer
Summer is the season when Shimla offers respite to people, from severe heat and heat waves of the plains. The summer season starts from April and lasts until June. During this season temperature, fluctuates between 15 deg C to 28 deg C. Light woolen and cotton clothes are recommended during this weather condition.
Monsoon
Monsoon comes to Shimla in the month of July and lasts until September. During monsoon, the entire hill resort beams with a green hue. The temperature during monsoons drops considerably during this time and you might be required to wear light woolens at night. If you want to enjoy the lush greenery of Shimla, this is the time to visit it.