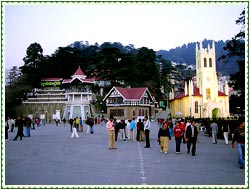 The Ridge road, spread in a large open space and located in the heart of Shimla, is a major tourist attraction. It runs east to west, alongside the Mall Road, and joins it at the Scandal point, on the west side. On the east side, the Ridge road leads to Lakkar Bazaar, a wooden crafts market. Ridge attracts tourists with its wide-open plane, full of lush green grass. A hot spot for picnic, it is also a popular hangout place. The Ridge houses a large water reservoir, which acts as the main supply of Shimla town.
The place houses a Church, made in neo-Gothic architectural style, in the year 1844. Tudor Library building, built in the year 1910, is another major attraction. Besides these landmarks, The Ridge has three statues, of Mahatma Gandhi, Indira Gandhi and Dr. Y S Parmar - the first Chief Minister of the state of Himachal Pradesh.The Ridge is famous for the various government functions and fairs that are held here. It is usually the venue for all such celebrations and events.
The most famous festival that is held at the Ridge is the Summer Festival. During this festival, usually held in the month of April-May, the whole of Shimla comes alive with flying colors. The Ridge offers splendid views of the snow-clad ranges of the Himalayas, fine walks through oak and flowering rhododendron, throughout the year. The famous Aashiyana restaurant, which dishes out a delectable fare to tourists, is also located at The Ridge. From this ridge, tourists can see panoramic view of the near by mountains and hills.