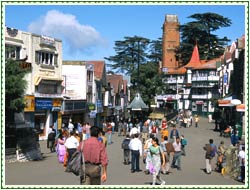 Shimla is one of the most beautiful as well as most popular cities of Himachal Pradesh. People flock to the hill station in large numbers, especially in the summer season. It serves as the perfect getaway, to escape from the punishing heat of the summers. Apart from that, Simla is also endowed with exquisite natural beauty that lures tourists from far and wide. The facilities are good and the people friendly. In this article, we have provided information on the places that you must visit on sightseeing tours of Shimla, counted amongst the most magnificent hill stations of India.
Christ Church
Christ Church is the second oldest church of North India and is considered as one of the landmarks of Shimla. It was built in 1846-1857 and stands overlooking a ridge. Its stained glass windows and clocks, though not working anymore, add to its beauty. Other important churches of the city are St. Michael's Cathedral and Roman Catholic Cathedral.
Jakhu Temple
Situated at the highest point of the Shimla ridge, Jakhu temple is dedicated to Lord Hanuman. It offers fantastic views of valleys, snowcapped peaks and the town itself. The temple is just the right place for seeing the magical sunrises and sunsets of Shimla.
Sankat Mochan Temple
Another shrine dedicated to Lord Hanuman, Sankat Mochan Temple is situated 5 km down the Shimla-Kalka road. The temple offers beautiful views of Shimla and also has a campus worth visiting. Every Sunday, a 'Langar' or open kitchen is organized here.
Tara Devi Temple
Situated at a distance of approximately 20 km from Shimla, Tara Devi temple is connected to the city by train, bus and motorable road. You can also trek through a shorter route (5 km) through dense forests to reach the temple. It also offers panoramic views of the city and is also a very a popular picnic spot.
Kali Bari Mandir
Close to the Mall Road of Shimla lies the Kali Bari Mandir, dedicated to Goddess Shyamala Devi. Pilgrims throng this temple, especially during Diwali Festival and Durga Puja.
The Ridge
Centrally situated in Shimla, this large open space offers picturesque views of mountain ranges. It is situated quite close to some significant landmarks of Shimla, such as the Christ Church and the Tudor Library.
The Mall
The activity center of Shimla, the Mall is located near the Ridge and Scandal Point. There are a number of emporiums, showrooms and restaurant here, along with the Gaiety Theatre that is built on the lines of old British theatres and is used as a center of cultural activities. Shimla Mall has three cinema halls, a Roller Skating hall, Billiard Rooms and video game centers. It is also the chosen venue for Summer Festival in June, Ice-skating in December-January and Winter Carnival of February. One can also visit the exhibitions and craft fares going around in the area quite frequently.
Summer Hill
1 km from Boilaeuganj, Summer Hill at an altitude of 1,283 m is a charming spot on Shimla-Kalka Railway line. It has peaceful surroundings, shady walks, Himachal Pradesh University and beautiful Georgian House of Rajkumari Amrit Kaur, where Mahatma Gandhi stayed during his visit to Shimla.
Annandale
Annadale is a glade surrounded by forests of tall deodar trees, just beyond Glen. It has an ancient temple on its edge and was once used as the playground of Shimla by the British who came here to enjoy racing, polo and cricket.
Elysium Hill
Elysium Hill houses Lakkar Bazaar (Wood Market) and the famous Auckland House, which was used as the residence by Viceroy Lord Auckland once. Today, the Auckland House is used as popular girls' school. The hill also boasts of Stirling Castle, which is being used as an orphanage for Tibetan children and a shelter for locally settled Tibetan exiles.
Shimla State Museum
Shimla State Museum is set on top of a hill, above the Chaura Maidan at Shimla. It is housed in a colonial building, known as Inverarm. One has to hike about 1500 m to reach the colonial mansion housing the museum.
Padam Palace
Situated at a distance of approximately 125 km from Shimla is Padam Palace, one of the major attractions of Rampur. It once served as the Winter Capital of the former princely state of Bushair.
Viceregal Lodge
One of the most famous landmarks of Shimla, the Viceregal Lodge situated on the Observatory Hill and also known as the Rashtrapati Niwas now. The building lies at a distance of just 2 km from the Himachal State Museum.
Kamru Fort
Standing at an altitude of 2600 m above sea level, Kamru fort is 229 km from Shimla and 2 km from the beautiful Sangla Valley. The fort is set in a picturesque location and is entered through a series of gates.
Arki Fort
Situated at a distance of approximately 40 km from Shimla, Arki is a small town in the Solan district that was once the capital of the princely state of Baghal. Gurkhas trying to invade the city used Arki Fort as their stronghold during the Gurkha Wars that went on till 1815-16.
Bhakra Nangal Dam
Bhakra Nangal Dam has emerged as a very popular tourist place in Himachal Pradesh. It was aptly titled as the 'New Temple of Resurgent India' by Pandit Jawaharlal Nehru, the first Prime Minister of India.