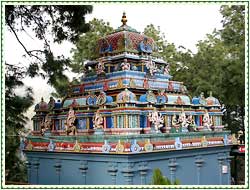 Sankat Mochan temple is located five kilometers from Shimla, on Kalka - Shimla National Highway, in a lush green hill. The temple is dedicated to Lord Hanuman, the Monkey God, and attracts lots of devotees. It is a place where one can actually meditate and enjoy the calm and peaceful surroundings. Lush green trees surround Sankat Mochan Temple, adding its charm. The background of the temple consists of the imposing and lofty Himalayan ranges and a light mist adds a mystical touch to that place.
Sankat Mochan temple is not ancient as such. In mid twentieth century, Baba Neeb Karori Ji Maharaj came to this beautiful place, in search of peace and calm. He realized this was the perfect spot for meditation and soulful introspection. After staying here for two weeks, he desired for a temple dedicated to Lord Hanuman to be built here. Later on, Baba's faithful devotees, including the then governor of Himachal Pradesh, turned the wish of their Guru into a reality. The temple was built and sanctified in June 1966.
Initially, the temple was small, but later developments have led its premises to grow considerably. The temple, which was originally dedicated to Lord Hanuman, now has other idols too, including those of Lord Ram, Siva, and Ganesh, in separate complexes. In a near by complex, there is a temple dedicated to Baba Neeb Karori ji too. Other than religious relevance temple provides other socially useful activities.
The three-story building of the Sankat Mochan temple serves as a venue for marriage ceremony and is rented out to people who want to conduct marriages. The charges for all these facilities are nominal and affordable. Apart from marriages, many other sacred rituals and ceremonies can be conducted over here. Every Sunday, the huge hall in the building is used for distributing Prasad, also known as Langar.