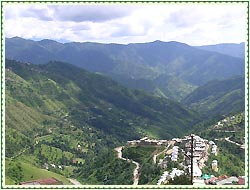 Shimla, the capital of Himachal Pradesh and former summer capital of British India, is a very popular tourist destination. The architecture of the buildings is of British era and has European influence. Located on the Shivalik foothills, amidst verdant valleys and lush green meadows, the hill station is heaven for all the travelers. Salubrious climate, easy accessibility and numerous attractions make the place an enchanting tourist destination. Its attractive excursions i.e. places to see nearby only add to the fun of visiting Simla.
Annandale
Located three kilometer from downtown, in the open grounds, and near to the ridge, Annandale is a major tourist attraction nearby Shimla. Being a peaceful and serene place, it is perfect for picnic. Annandale also has cricket and polo grounds and gymkhana.
Sanjauli
Sanjauli is a place that offers tranquility and quietness to the travelers. It is the perfect tourist destination for those who are really tired of the metro's life and its terrific pollution and want to take a restful break. The place is located in serene valley and offers an awesome vacation.
Chail
Overlooking the Sutlej River and located on a wooded spur, Chail is attractive tourist destination. The idyllic resort, set amidst scented forests of pine and deodar, is visited by a large number of tourists every year, especially those coming on a honeymoon.
Kufri
Located sixteen kilometer away from Shimla, Kufri is an excellent ski-resort, which offers glorious views of forested slopes and tall ranges, iced in a covering of perpetual snow. The place holds winter sports festival every year. It is mainly popular amongst adventure lovers.
Mashobra
Located nine kilometer from Shimla, Mashobra is famous for its apple orchards and thick woods of oak and pine. The place has lush green meadows, elegant guesthouses and awesome range of flowers. All these make Mashobra a perfect picnic spot. One can also climb to Shali peak, the highest point of the place, for more adventure.
Narkanda
Narkanda is located sixty-four kilometer away from the city of Shimla. The place has pine forests and a ski resort. A hill road, with superb views, takes travelers to Shimla from here. The major attraction of the place is that it has a choice of ski-slopes, ranging from a beginners run and a slalom slope to sharper descents, for the experienced.
Naldehra
Naldehara is located twenty-three kilometer away from Shimla. The place houses a nine-hole golf course, adorned with crown deodar trees. Historically, Lord Curzon was so much attracted by the beauty of the place that he named the place on his daughter's name Alexandra Naldera.