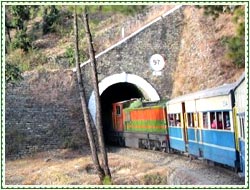 Shimla Toy Train running between Kalka and Shimla is a world heritage site included in UNESCO list. This 96 kilometer long narrow gauge track has historical importance in the development of railways in India. This antique train started in the year 1903 attracts tourists for its distinct look and glamour. Shimla Toy Train is showcase of human efficiency and dint for the train runs in such a tough terrain that only by superior technology such thing is possible.
Shimla Toy Train passes through lush green valleys and beautiful hill stations. You see all the verdant valleys during commuting via train. The train gives such a joyride that is unforgettable in life and in a way it would be a lifetime experience. Train passes through narrow passes and breathtaking beautiful flora and fauna. The historical journey of Mahatma Gandhi in the year 1945 to ride Shimla Toy train is an excellent example of its popularity.
The engineering sophistication comes to perfection on the railway line of Kalka-Shimla. There are more than 100 tunnels and over 700 non-girder bridges in the track of 96-kilometers. Curvaceous track gives awesome experience to travelers. Some curves are semi-right-angled and are excellent specimen of fine railway engineering. Shimla Toy Train is a pioneer tourism promotion concept by Indian Railways in collaboration of Himachal Pradesh Tourism Department.
The whole interior of the train is decorated with wide glass windows. Ergonomically designed reversible cushioned chairs give comfortable traveling. Wall to wall carpeting and fancy electrical fittings are another excellent attraction. The train gives special attention to couples and has exclusive cabins for them, accompanied with music system, and communication facilities. Shimla Toy Train has excellent catering service and offers a range of cuisines.