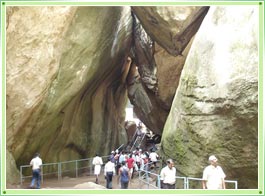 Wayanad is a beautiful place to see. Not just the town, but there are many places to see near Wayanad. These places can be visited as a part of excursions from Wayanad. The best way to explore them is on foot, though you can always hire local transport for Wayanad excursions. Read on further to know about the various interesting places that can be visited around Wayanad.
Vythiri
Vythiri is a beautiful place located in the dense thickets of the hilly ranges of Kerala. Popular for its refreshing and pollution free air, this place is a must visit as an excursion from Wayanad.
Edakkal Caves
Located at a distance of 10 kilometers from Wayanad, the Edakkal Caves are considered to be one of the earliest spots of human dwelling. The caves have beautiful carvings that depict primitive lifestyle. The caves have been formed out of three huge rocks, one resting on two of them thus, making a hollow space in between.
Ambalavayal Heritage Museum
Ambalavayal Heritage Museum is located at a distance of 12 kilometers from Wayanad. It is regarded as one of the best heritage museums of Kerala. The museum has artifacts that date back to the 2nd century. These include artifacts like primitive weapons, bows and arrows and old clay idols and sculptures.
Chembra Peak
Situated at a height of 2100 meters above sea level near the lofty ranges of the Western Ghats, Chembra peak is a beautiful spot near Wayanad. The peak is an ideal spot for trekking and taking a walk along the undulating paths of the peak.
Kuruva Island
Kuruva Island is located 17 kilometers from Wayanad and is a vast expanse of 950 acres of lush green forests. Situated on the Themkabani River, this island houses many rare species of birds, plants and animals.
Pakshipathalam
This scenic bird watching spot is located 1740 meters above sea level. It is an ideal place for trekking and bird watching. The undulating hills look absolutely gorgeous with steep sides, streams and unexplored forests.
Thirunelli Temple
The Thirunelli temple is located 30 kilometers from the Wayanad district. It is located in the Brahmagiri Hills and is often referred to as the 'Kashi of South'. The Papanasini River surrounds it and forms a natural boundary around it.
Valliyoorkkavu Temple
Valliyoorkkavu temple is dedicated to Goddess Durga and is worshipped among the tribal communities. It is located at a distance of around 3 kilometers from Mananthavadi and is popular for the 10 day-long annual festival that is celebrated in the month of April.