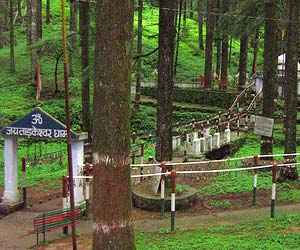 Perched at a high altitude, Lansdowne is one of the best places to spend a serene and calm vacation in Uttarakhand. The calm environ of the place, coupled with a blissful ambience would surely prove to be a respite for people, boggled down with the chaotic life of big cities. Apart from enjoy the enigmatic and refreshing scenery of Lansdowne; there are also a number of places in and around the hill station that would surely add to the holidaying mood. In the following lines, we have provided detailed information about the tourist places to see in Lansdowne.
Places to See in Lansdowne
Garhwal Rifles Regimental War Memorial
Founded on 11 November, 1923 by Lord Rawlinson of Trent, the then Commander-in-Chief of India, the Garhwal Rifles Regimental War Memorial is one of the most popular destination to explore in Lansdowne. The memorial has portraits of war heroes and war weapons. People who are on the expedition trip to Lansdowne should explore the rustic charm of the memorial.
Tarkeshwar Mahadev Temple
Situated atop 2092 mts, the Tarakeshwar Mahadev Temple is located close to Lansdowne. One of the ancient holy sites or SiddhaPitas, the temple enshrines the deity of Lord Shiva. The location of the temple is an added advantage. Amidst hick blue pine forests, oak trees and dense Deodars, the temple extends a panoramic view. One of the spectacular features of the hotel is that even at this high altitude, there are many water pools that flow continuously. Though people flock to the temple in large numbers regularly, the occasion of Mahashivratri witnesses a humungous crowd.
Kanvashram
Bordered by thick forests and hillocks, Kanvashram is a sacred ashram located in Lansdowne. The temple bears a mythological importance related to the Sage Kanvan. As per a school of thought, it is believed that that 'Shakuntala', the step daughter of Sage Kanvan had given birth to her son Bharath in this Ashram. The lovely location of the ashram makes its all the more an inevitable place to explore, when on an escapade in Lansdowne.
Jwalpadevi
A popular religious place in Garhwal area, the place adores a temple dedicated to Goddess Durga. The place is of utmost importance. Worshippers flock to the temple in large numbers all round the year. However, during Navratras, the crowd gets enormous. On each day of the Navratras, a special religious festival is held at this this temple.